"Goudy Old Style" FONT
This font appears only as italic in newer versions of Windows and looks totally different.
To get the "good old style" Goudy back, you may delete the italic part of the font.
Here is how to:
Go to Control Panel - choose Fonts and click on the font Goudy Old Style.
It shoud be 3 of them - Bold, Italic and Regular.
Delete the one named italic.
(You will still have the opportunity to use italic when you write in Incredimail.)
The one you can download here contains only the Regular part.

***
CURSOR FLOATIES:

(updated august 2016)
Floaties moving upwards - those who, more or less, are following the cursor:
To avoid the floaties getting stuck in your email:
Put your cursor at the top of the page (above your email) and wait until you don't see any floaties,
then click the "send" button.
***
FRAME * TEXTBOX * EXPANDING TABLE

(updated august 2016)
The text area in a Frame ( Iframe / ifr = inline frame) letter is usually in the main picture itself,
and comes with a colored scrollbar.
The text area in a Textbox is in a table, under or on the side of the main picture.
It has fixed width and height, and comes with a colored scrollbar.
The text area in a Expanding table is in the table under the main picutre.
It expands in height as you fill up the text area,
and also in width if you insert a picture that is wider than the table.
No scrollbar...

Frame letters in Incredimail 2:
Letters with frame & scrollbar behave differently when writing in IM 2 than in IM Xe.
No worries! - When sending, the result will be correct, all the text will be inside the frame.
But... I find it annoying that the writing starts outside the frame, so here is one way to avoid it;
SAVE your mail before you start writing, then open your DRAFTS folder.
Double click on your mail in your Drafts folder to open it.
Now you should start writing inside the frame as usual.
***
FRAME letters - IM Style Box - IE 8:
The frame thumbnails in your Style Box may look like they are split - or that the main image has gone,
but when used the letters are complete.

The text area in the Frame has a fixed size. The scrollbar appears as you add more text.

Note: You may insert images that are bigger than the text area, my frames will not split.
Yet, attaching the image is a better solution, as the text area usually is too small for large images.
***
MUSIC:
I have made a link to som music/songs in a few of my letters.
Many people don't like the same music, so I decided not to put the music into the letter.
Another reason is that I can't find a way to put the music into the letter without making it veeeeeery heavy
in MegaBytes. - They are mp3 files, and I save them at my own server.
They open in Windows Media Player or similar.
***
ANIMATIONS & LETTERS WITH SCRIPTS:
Scripts used are either Java or VB script.
If you can't see the "animations" try to enable scripts in your Incredimail (Xe):
- Tools Menu
- Options
- Security tab
- Incoming message - not checked
(see pictures below)
In IM 2, you may not see them anyway;
Save your letter, then look at the letter in the Drafts folder,
or do as one person told me: Send a mail to yourself and it will appear perfect in your Inbox.
* Not all animations are made by scripts. *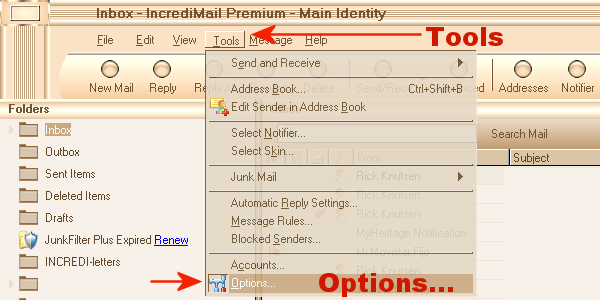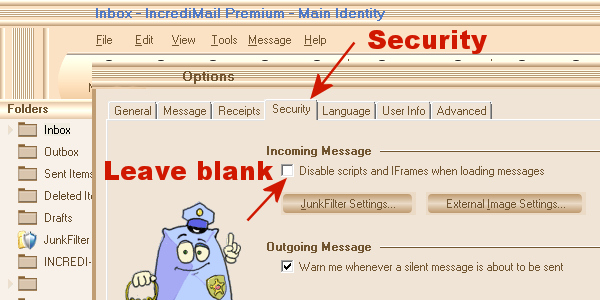 ***
INTERNET EXPLORER version 8 vs 9 and newer:
I use both version 8 and 9. There are pros and cons with both:
POPPING EFFECTS - IE 9 (or newer):
After downloading version 9 of Internet Explorer the old popping effects stopped working.
On my old laptop I have IE version 8, and luckily the popping effects are still working perfect there.
2. APRIL 2014:
The popping effects again.... - I have changed all the old letters now.
The new script I tried did not work as good as I wanted, so I had to do some changes to it.
I have tested them all in IM xe /Win7 /IE 8 and 9, in IM2 / Win8 IE10, and in IMxe/Win10/IE11.
All are good.
In IM2 I don't see the animations when I'm writing, but they work when I send and recieve,
and when I save the letter in Drafts folder.
Now I am satisfied - I think :)
***
HOW TO REMOVE/UNINSTALL IE 9 FROM WIN7 OR VISTA:
http://windows.microsoft.com/en-US/windows7/how-do-i-install-or-uninstall-internet-explorer-9
Scroll down the page to see how to remove IE 9 or 10.
***
TEXT WRAPPING AROUND AN IMAGE:
When you start writing it will look like the text is not wrapping under the picture, but it will - later...
Save your mail, and have a look in the Drafts folder.... ;)
Also: A picture on the right side it will look like it is on the left side - until you save / send the mail.
How it looks like when writing tetxt: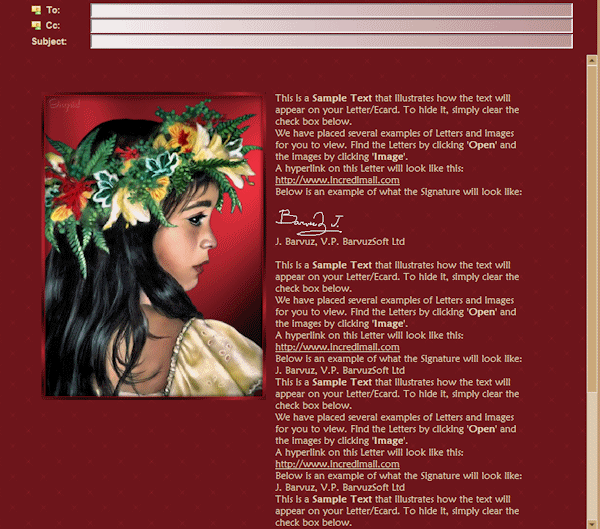 This is how it will look in the Inbox, and in the Drafts folder: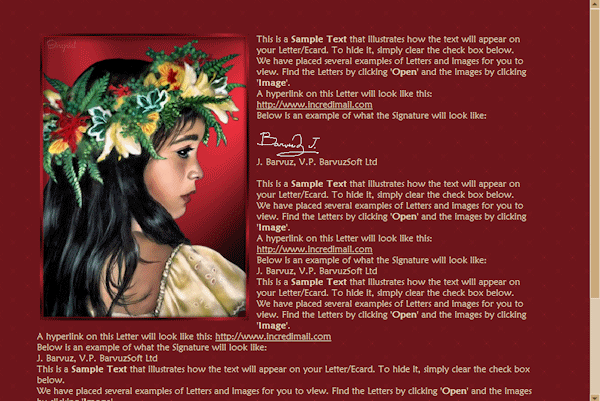 ***
From Incredimail 2 to Incredimail Xe:
Do you want to change back from Incredimail 2 to Incredimail Xe?
YES, it's possible!
I downloaded the latest Xe version from Incredimail main site (Downloads) 24 May 2010.
If you can't download it, just mail me and I'll help... ;)
Before you uninstall IM2:
Export your contacts to your desktop.
Import your mails in Windows Mail (not W Live Mail) or Outlook, or other compatible email client.
Uninstall IM2 - Install IM Xe
Import contacts from the file on your desktop
Import mail from your other email client.
***
Incredimail Xe Premium:
Sometimes we don't look very much at all the options we have in our programs.
eg, it took me ages to learn that it is possible to see a top border through the To, Cc and Subject fields.
I guess that most Incredimail users know how to, but for you who don't know:
Click the Tools menu in Incredimail and choose Options.
Then follow the steps showed at the picture below.